Dry Skin vs. Dehydrated Skin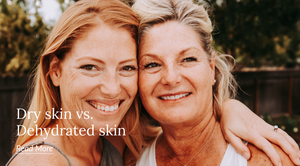 by Ashley Boyd
Dry and dehydrated skin share many of the same signs and symptoms, but they are actually very different!

Dry skin is a skin type and is inherited through your genetics. You may be predisposed to the inadequate production of your skin's natural oils. Also, dry skin can often be connected to both hormonal and thyroid imbalances. This can inhibit your skin's sebum production, contributing to a complexion that sometimes seems dry and lackluster in appearance. If left untreated dry skin can become flaky, red, and irritated as many people experience. While your dry skin type can't be "changed", you can improve your overall skin health by adding oil-infused products to your skincare routine. We like to recommend products such as Petitgrain Moisturizer and Repairing Facial Serum.

Dehydrated skin, on the other hand, is a skin condition. It can be caused by environmental stressors (weather and seasonal changes), unhealthy diet (lack of fresh produce), and lifestyle choices (alcohol or caffeine). All of these lifestyle factors deplete your skin's water content affecting your hydration and can directly affect the appearance of your skin. Dehydrated skin is a lack of water - not oil. Even oily or breakout-prone skin can become dehydrated. The good news is that dehydrated skin can be remedied with a combination of a solid skincare routine and lifestyle changes.
Aren't sure if you have dehydrated skin or dry skin? Take our Skin Quiz to find out! If you haven't yet taken our Skin Quiz it can be a great tool to build a custom skincare routine that is unique to your skincare needs.