Bambu Earth 2020 Gift Guide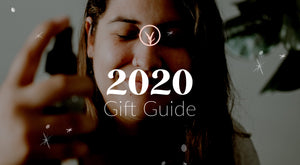 Let us make it easy for you to gift friends and family this year. We've put together some of our favorite ideas to treat the special people in your life.
For mom

'Tis the season to gift and glow. Lucky for you, Mom will love our most luxurious moisturizer! Prickly pear is the star ingredient in this velvety pressed serum that deeply hydrates, firms, and tones for a bright, youthful complexion. A soothing emollient to alleviate dry, flaky, sensitive, and mature skin, the concentrate is also non-comedogenic (won't block pores) to reduce inflammation and soothe winter skin!
For the man in your life
This is gifting made easy! Whether he is a wash and go kind of guy or already has a full routine, this micro-exfoliating and detoxifying facial/body bar do it all this season. Activated charcoal will detox impurities while antibacterial and antifungal tea tree deodorizes and keeps blemishes away.
For the hostess
Arrive at the party with the gift of wellness this year. Who could say no to softer skin?! Earth in Bloom Body Oil & Glow is the perfect pair to remedy winter skin. This ultra-luxurious body oil & scrub combination features lavender and frankincense essential oils along with coconut oil for deeply nourished, silky smooth, and vibrantly youthful skin. Be the shining star this holiday season when you gift this perfect duo to your favorite hostess.
For the little ones
Our best-selling Balm for your little ones!  A truly versatile balm, utilizing the natural moisturizing and restorative properties of extra virgin olive oil infused with chamomile flower, lavender flower, and calendula. This Balm will be sure to support the whole family this winter! Use this multipurpose balm everywhere - face, hands, cuticles, on bites, stings, and even the ends of your hair. Great tip: apply to cheeks and nose as a protective moisture barrier against the dry cold and wind this season.
For your BFF
Your best friend is always there for you and let's face it, the holidays can be hectic! Through ups and downs this holiday season Dry Shampoo has your back! This talc-free dry shampoo gives volume to oily second (or tenth)-day hair, soothes dry scalps and promotes healthy hair growth. Let our dry shampoo support your hair through the ups and downs this holiday season. A true BFF for anyone with hair!
For your daughters or sisters
Nothing says "happy holidays" like buying a loved one a special day at the spa. This year bring the spa room to them! A true mud mask packed with nourishing benefits for a quick skin reset straight from the Dead Sea. This fan-favorite has a high mineral concentration that helps encourage growth and repair. With relaxing spa qualities this
cool, smooth, slightly stony mud tingles and tightens the skin for an in-home spa experience like never before.