HOW TO DITCH DARK SPOTS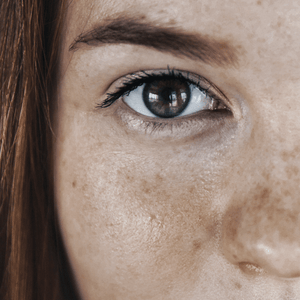 THE #1 QUESTION WE GET DURING SUMMER
If you are experiencing hyperpigmentation (dark spots), you might be wondering how to get rid of them. First,  we want to encourage you. You are beautiful, with or without dark spots. We would like to challenge you to take a look at yourself in the mirror and consider the beauty in your skin's imperfections. Embrace the uniqueness of you. Be patient with your skin. Recognize it as a living organ that is responding to your environment with intelligence. 
Before we dive into remedies for this condition, it's helpful to understand what it is. Dark spots (AKA: hyperpigmentation) occur when your pigment producing cells, melanocytes, are unhealthy, damaged or overworked. They start producing excessive melanin in certain areas causing dark patches and an uneven skin tone. 
The reason we get this question most in the summer is because the most common cause and worsening of hyperpigmentation is sun damage.
Hyperpigmentation can also be caused or worsened by:
harsh scrubs

birth control

"pregnancy mask"

improper hair removal

hormonal changes

a genetic predisposition

pimples
WHAT WE RECOMMEND:
Our Repairing Facial Serum was specifically formulated to reduce discoloration. It contains a concentrated blend of oils that are exceptional at repairing damaged skin and reducing discoloration naturally. Our Rosemary Toner also helps brighten and even skin tone.
Repairing Facial Serum is rich in Vitamin C, which inhibits enzymatic processes that produce melanin in the skin without lightening "normal" skin. Instead, it targets problem pigmentation areas. 
PLUS 2 MORE WAYS TO DITCH DARK SPOTS:


Sun protection: Use a physical sunblock, such as this one from Raw Elements USA or this one from W3LLPEOPLE. It's important that you use a sunscreen that contains zinc oxide as the active ingredient because it blocks most of the rays that will worsen dark spots.
Exfoliate: Over time, consistent exfoliation enhances cell turnover, stimulates collagen production, and reduces the appearance of dark spots. Try one of these exfoliants or take our skin mood quiz to find out which one is best for you.
WHAT TO AVOID:


Not all remedies are safe. Steer clear of these "fixes" that can actually do more harm than good:


Retinoid/Retinol (concerns: thins the skin by prematurely removing skin cells, increases skin's sensitivity to light, can be drying, can cause irritation, vitamin A toxicity, can disturb fetal development in pregnant women)
Chemical peels (concerns: can cause hyperpigmentation or hypopigmentation, in some rare cases can cause scarring, herpes flare ups, and fungal infections, phenol is used in chemical peels which can cause heart, liver and kidney damage)
Hydroquinone (concerns: skin irritation, thinning skin, darkening of normal skin color)
AN ENCOURAGEMENT IF YOU HAVE A "PREGNANCY MASK":

You're not alone. Although most women get frustrated by it, remember that your body is an amazing creation and hormonal side effects like these are just evidence of that. The Repairing Facial Serum will help fade the discoloration but in the mean time, allow yourself to consider the beauty of what your body has accomplished in the "imperfections" it has left behind. Be patient with yourself and your body. Remember that your "pregnancy mask" was your body's way of helping protect itself. That is reason to celebrate.